Well – a few days into 2019 and I am still signing the date with the wrong year. (I expect this habit to continue well into August.) Now that 2018 is objectively entirely behind us, I thought it best for me to look back and do some good old fashioned list point-format things about the music that sprung forth from the year. I SHALL BEGIN – having been asked this once or twice – with every YouTube reviewer/newspaper music columnist's favourite title: "THE TOP 50 ALBUMS OF 2018".
NOTE: THIS IS MY OPINION. Please don't get too upset about it – it's/I'm really not that important. A big thing I try to do is look at both the 'absolute' quality of the album (nigh on impossible) and also look at it within the context of the market it was trying to capture and its target audience. Of course, I can't include albums that I haven't listened to all the way through, so that is probably the explanation for some high-profile omissions.
Don't want to read through my thoughts and just want to know the albums? Click here for the TLDR version of the list. 🙂
LET'S GO.
---
HONOURABLE MENTION: A Perfect Pain, Merzbow and Genesis P-Orridge [Reissue]
Released: originally December 7, 1999; rereleased October 22 2018; Cold Spring
Favourite song: the LP edit of 'Flowering Pain Gives Space' – eerie, haunting, utterly inexplicable and gloriously bizarre.
Here because: OK, so it's a re-release and so technically isn't a 2018 album BUT the new version contains a second alternate mix/master of all five tracks on the album as the 'LP' edit – subtly different but interesting to compare side-by-side and definitely worth listening to in their own right. And with two icons of avant-garde music collaborating, it's more than worthy of a mention.
---
50: Invasion of Privacy, Cardi B
Released: April 5, 2018; Atlantic
Favourite song: Cardi's autobiographical empowering anthem that opens the whole show, 'Get Up 10'.
Here because: she's Cardi B. She's the first female rapper to top the Billboard Hot 100 multiple times, and this album's infectious mix of hip-hop, trap, Latin and R&B, combined with Cardi's distinctive flow and aggressive in-your-face delivery, make it clear that she is a powerhouse in the industry already.
---
49: Shawn Mendes, Shawn Mendes
Released: March 22, 2018; Island
Favourite song: The driving, heartfelt tribute to the Manchester 2017 attack featuring the soulful croonings of Khalid, 'Youth'.
Here because: Shawn Mendes has taken the generic stylings of a guitar-led pop album and injected it with his personal experience as a young and aspirational musician (he was 19 when this came out), replete with neurotic anxieties, tongue-in-cheek humour, flirtatiousness to keep the teen girls happy, and more than a pinch of autobiographical honesty.
---
48: The Now Now, Gorillaz
Released: June 29, 2018; Parlophone/Warner Bros.
Favourite song: the delightfully retro-inspired (even for Gorillaz) 'Tranz', with all the synth sounds you could want in a track.
Here because: in comparison to the fever-dream madness of your average Gorillaz album, The Now Now is pared down, leaner, more economical. Some people didn't like it for that – but for me it made it an interesting album in the Gorillaz canon, allowing Damon Albarn through the character of 2-D to really take centre stage.
---
47: Route One, Sigur Rós
Released: April 27, 2018; XL
Favourite song: out of the ambient unsettling-ness, the fourth track (the snappily titled '64°08'43.3″N 21°55'38.8″W') captivates me more than any other.
Here because: it's a bonkers concept that is executed beautifully. The entire album is a redux of the score to an 8-hour drive Sigur Rós took around Iceland's titular Route live-streamed on Icelandic television and on the internet, with the musical samples all derived from their previous single 'Óveður'. It's haunting, unsettling, a little anxiety-inducing and one of the best ambient albums I know. Man, I want to move to Iceland.
---
46: Goat Girl, Goat Girl
Released: April 6, 2018; Rough Trade
Favourite song: the delightfully(?) folky 'Creep', where the sounds of folk violin and jangly guitars contrast with Clottie singing about how she wants to bash in the face of a pervert filming her on the train.
Here because: Goat Girl are bringing a distinctly South London angle to the post-punk/alt rock scene with their discontented and sometimes downright polemical takes on British society. And all of that underpinned by some brilliant riffs and hooks that remain stuck in your head for hours.
---
45: 21st Century Liability, YUNGBLUD [Reissue]
Released: July 6 2018; Locomotion/Geffen
Favourite song: Psychotic Kids, on which Dom's vocal delivery is at its most chilling and driving.
Here because: I'm an alternative rock lover, and YUNGBLUD is tapping into the heavier side of the genre with glee. The songs' messages never fail to be relevant and poignant, and even at his most uproarious, there is a fragility and vulnerability that cuts through the record like a river and imbues every track with an undeniable charm.
---
44: 'A Star is Born' Soundtrack, Lady Gaga and Bradley Cooper
Released: October 5, 2018; Interscope
Favourite song: it's 'Shallow', isn't it? It has to be 'Shallow', right? It's 'Shallow'.
Here because: Lady Gaga once again proves her versatility, striking a raw core to her performance that was hinted at on Joanne. The film was fantastic and a brilliant reworking of this story, and the soundtrack perfectly accompanied it. And Bradley Cooper isn't half bad either.
---
43: Language, MNEK
Released: September 7, 2018; Virgin EMI
Favourite song: 'Crazy World' lyrically delves deep into racism and homophobia with eloquence and grace, but 'Colour', the bombastic Hailee Steinfeld collab, is the one you'll be humming all day (and it's so good it's sampled in the next track on the album, 'Body').
Here because: one of the major '20-gayteen' albums that promoted queer representation and visibility in mainstream music (there will be more coming), MNEK, an already-established writer who has written for almost everyone in the industry by this point, crafts a humorous but nonetheless sincere album full of some of the best pop and production of the year.
---
42: YSIV, Logic
Released: September 28, 2018; Visionary/Def Jam
Favourite song: 'End Call' can't help but put a huge smile on your face, as Logic optimistically reminisces over his past and how it drove him to his current position.
Here because: Logic rounds off his Young Sinatra series (three mixtapes and this album) with a brutally introspective, violent, neurotic, angst-filled, political and slick project that has him rapping with fluidity, poise, wit and intelligence. It feels like the culmination of Logic's oeuvre up until this point, not just the YS series, and that makes it pretty darn good.
---
41: Honey, Robyn
Released: October 26, 2018; Konichiwa/Interscope
Favourite song: the sensual, throbbing synth textures and Robyn's haunting, Kate Bush-esque vocal stylings of the title track.
Here because: Robyn's album is equal parts intensely a personal affair (the project commencing after both the breakdown of a relationship and the death of a close friend and collaborator) and also a record which you can resonate with and find yourself dancing around the room to. Dancing in a muted, reflective sort of way.
---
40: Pray for the Wicked, Panic! at the Disco
Released: June 22, 2018; Fueled by Ramen/DCD2
Favourite song: ending the album on such a heart-wrenching note as 'Dying in LA', with its sweeping strings and Mr Disco himself on the piano, is a brave one – and one which more than pays off.
Here because: No two P!atD albums ever have quite the same stylistic bent, and now that Brendon Urie is the only sole member, he has more freedom than ever before. After his performance in Kinky Boots, the more theatrical score of the album is not surprising, but what makes the album work so well is how it's integrated into every song, and not just a few feature tracks. It's a coherent and well-produced album that stands well alongside its older siblings.
---
39: 1981 Extended Play by I DONT KNOW HOW BUT THEY FOUND ME
Released: November 8, 2018; Fearless
Favourite song: 'Absinthe' sounds like what would happen if you got Gerard Way to cowrite a Scissor Sisters song AND I AM ALL FOR IT.
Here because: After two years of secret shows and touring, this two piece (Dallon Weekes, formerly of P!atD and Ryan Seaman from Falling in Reverse) officially announced that they were indeed a band, and iDKHOW's debut effort, a nostalgic polystylistic romp through Weekes' sarcastic and bitter outlook on life, cemented their unique voice in the market – and it sent people wild.
---
38: You Won't Get What You Want, Daughters
Released: October 26, 2018; Ipecac 
Favourite song: 'Ocean Song' has one of the catchiest drum patterns of the year, and Alex Marshall's eerie vocals and the band's brilliantly off-kilter riffs and patterns tie the whole song together.
Here because: similarly to The Now Now above (well, not stylistically, but anyway), the new Daughters album isn't so in your face. It's a slow burn that takes a few listens to really get under the skin of that shows a maturation of the collective's uniquely neurotic take on art-metal and noise wave – and it's fascinating.
---
37: KIDS SEE GHOSTS, KIDS SEE GHOSTS
Released: June 8, 2018; GOOD Music
Favourite song: 'Reborn' hits an emotional nerve that the rest of the project can't compete with.
Here because: this is a collaboration that only reaped positive effects, particularly when compared to Ye, Kanye's comparatively cumbersome solo album from the year. KIDS SEE GHOSTS (his collaborative project with long-time friend Kid Cudi) delves into the pair's respective pasts and (particularly) their experiences with mental health; the pair bring out each other's strengths and mitigate their weaknesses over this short but impeccably crafted project.
---
36: Infections of a Different Kind – Step 1, AURORA
Released: September 28, 2018; Decca/Universal
Favourite song: The positive and inspiring 'Queendom', with exquisite vocals over a fantastic electronic beat, which heralded in the second age of AURORA.
Here because: this isn't one of the more obvious '20-gayteen' albums, but Infections is AURORA pushing her boundaries of political and cultural messages in her music – her style has turned from pure fairytale/nightmare-inspired introspection to a more blatant extroverted message of love and empowerment – here's to waiting impatiently for Step 2 to drop sometime soon.
---
35: Black Panther: The Album, Kendrick Lamar and various
Released: February 9, 2018; Interscope/Top Dawg/Aftermath
Favourite song: 'Pray for Me', with Kendrick and The Weeknd, is a very close second on this album, with a perfect fusion of the two artists' signature styles, but 'King's Dead' (the album's tie-in for the film's primary antagonist Killmonger) is an inventive and driving song that features Kendrick, Future, James Blake and Jay Rock using the image of the villain to the track's advantage.
Here because: no-one can deny the cultural significance of the film Black Panther, but what genuinely surprised me (though in retrospect I had no reason to be) was that both soundtrack albums (Ludwig Göransson's score and Lamar's tie-in album) were so good. Göransson's score makes use of traditional African music and instruments – but let's be honest, it's the songs off of this album that everyone thinks of.
---
34: Voicenotes, Charlie Puth
Released: May 11, 2018; Atlantic
Favourite song: 'BOY', with its infectious push rhythm, gorgeous chord progression and THAT keys solo which could be ripped straight from a Real Book standard.
Here because: this album is honestly perfectly produced. After the hot mess that was Nine Track Mind, Puth fired all of his producers, instead taking that role all for himself – and it's such a good thing that he did, even if he did twice delay the album's release. The production is clean, precise and inventive and Puth uses it like an instrument, helping bring out the jazz, soul and funk influences of the album, and the humour and heart of the lyrics, with flair.
---
33: God's Favorite Customer, Father John Misty
Released: June 1, 2018; Sub Pop/Bella Union
Favourite song: 'We're Only People (And There's Not Much Anyone Can Do About That)'. It sounds depressing, but – yeah, actually, it's just a little bit of a downer. But's what a fantastic downer.
Here because: Father John Misty quite frankly can never disappoint. And while this record is more reserved and has less of Josh Tillman's trademark humour, there's still enough, morphed into a candid portrait of modern life with at times brutal honesty, to keep anybody happy.
---
32: Sweetener, Ariana Grande
Released: August 17, 2018; Republic.
Favourite song: 'breathin' is definitely there on strength of the instrumental alone, let alone Ariana's fantastic performance atop it.
Here because: Sweetener shows Ariana moving away from her established image of pop princess with a dark sexual core, and into more experimental and genre-bending territory. Yes, many of the lyrical themes are still there, but now dressed up completely differently – and the refreshingly honest autobiographical nature of some of the tracks on the album show Ariana at both her most open and her strongest.
---
31: In A Poem Unlimited, U.S. Girls
Released: February 20, 2018; 4AD
Favourite song: 'Incidental Boogie', the weird, distorted, heavy rock/electronic beats fusion that should work but oh so does.
Here because: Meghan Remy continues to impress with every release under the U.S. Girls moniker, and In a Poem Unlimited, with its touches of psychadelic, heavy rock, baroque pop and even a little experimental recording reminiscent of Alvin Lucier, sounds like the music Jane Siberry would listen to in her dreams. And more to the point, it works so well.
---
30: glisten, Jeremy Zucker
Released: May 4, 2018; Republic
Favourite song: 'all the kids are depressed', a gorgeous anthem for lost youth, with a particularly poignant chorus with some brilliant managed vocoders, bright guitars, keys and a really fantastic use of percussion.
Here because: Jeremy Zucker has had a breakout year, suddenly exploding onto the scene with a mix of trippy pop and indie electronica, and while summer, (yes, the title includes the comma) was a fantastic EP, the earlier release glisten really concentrates to a core what makes Zucker's sound so brilliant and fresh.
---
29: OIL OF EVERY PEARL'S UN-INSIDES, SOPHIE
Released: 15 June 2018; MSMSMSMS/Future Classic/Transgressive
Favourite song: 'It's Okay to Cry', the first time SOPHIE has used her own vocals on a song – and one of the very few songs I know where the final 10 seconds hold a massive surprise that completely throws you for a loop.
Here because: no one else could have made this album. SOPHIE, a close associate of the PC Music label (which will reappear later on the list), shares their predilection for intensely artificial soundscapes and synthetic atmospheres in her songs, but has constructed her own brand of it; the oftentimes disorienting sound world of the album marks a new kind of dance pop that isn't as interested in getting played in every club as it is tearing down the club and building it from the ground up again.
---
28: beerbongs and bentleys, Post Malone
Released: April 27, 2018; Republic
Favourite songs: the lush Swae Lee collab 'Spoil My Night' is a close second, but 'Rich and Sad' is ultimately the emotional heart of the album, with Post lamenting the break up of a relationship amid his rise to stardom, with a gorgeous instrumental laden with flutes and urgent beats.
Here because: no matter what you think of Post Malone and his trance-y melodically-driven hip-hop, the album sought out a target audience and found it. Post Malone was one of the defining musical artists of 2018, and this album ultimately has no filler – just an hour of solid songs to bop along to.
---
27: Broken Politics, Neneh Cherry
Released: 19 October 2018; Smalltown Supersound
Favourite song: what makes this album so good can be found in every song, but 'Synchronised Devotion', with its unique composition of piano, vibraphone and Cherry's voice, somehow hits deeper than any other.
Here because: Neneh Cherry's politics and worldview have changed little since her debut – but this album's music is softer, warmer, more inviting than her previous album, and more mature than the earlier work. This is an album of self-empowerment and worldly wisdom, a trait which shines through on every track.
---
26: Palo Santo, Years & Years
Released: July 6, 2018: Polydor
Favourite songs: either the album's title track, which explores the symbolism of the album's titular city, or the dark, sexy drama of the opener, 'Sanctify'.
Here because: Palo Santo was surprising. Years & Years took their retro-inspired queer electronica sound and made it more grown up. This album deals with sexuality, fetishism, openness, love, betrayal, and personal discovery, all held under the dual metaphor of the LGBT+ community functioning like a church as a place of sanctuary, and then within the constructed world of Palo Santo itself. I'll leave you to figure out the double entendre in the title, though.
---
25: And Nothing Hurt, Spiritualized
Released: September 7, 2018; Fat Possum/Bella Union
Favourite song: 'The Morning After'. Just – just listen to it. You'll see why.
Here because: if you are a fan of Spiritualized, this album will be a dream. If not, you will probably look at the album's eclectic space-y mix of genres and wonder what the hell is going on. Regardless, every song is brilliantly crafted, and the album holds its own among the already-illustrious line-up of Spiritualized records.
---
24: Bloom, Troye Sivan
Released: August 31, 2018; EMI Australia/Capitol
Favourite song: I find the production and instrumentals on 'Plum' just utterly fascinating – let alone some of the most intriguing lyrics on the album.
Here because: much like with Years & Years and Palo Santo, Bloom seems like the much more mature sibling to Troye's previous album, 2015's Blue Neighbourhood. At times almost defiantly queer, Bloom is an album full of love songs, torch songs, and undeniably danceable tunes. Sivan's sound, rooted simultaneously in classic pop and the electronica of today, and his distinct baritone range, singles him out as a unique voice in modern pop.
---
23: Egypt Station, Paul McCartney
Released: September 7, 2018; Capitol
Favourite song: For all the great sonic experimentation on the album and the extraordinary stylistic diversity, 'Despite Repeated Warnings', with its brilliant pacing and rhapsodic structure, nonetheless feels like familiar pristine McCartney territory, marking it out all the more on the album – and the feels that come along with that make it truly special. And it's got phenomenal chords.
Here because: Rob Sheffield from Rolling Stone explains it perfectly:
"Make a list of all the songwriters who were composing great tunes in 1958. Now make an overlapping list of the ones who are still writing brilliant songs in 2018. Your list reads: Paul McCartney."
Provided they find the audience, these songs will become classics too. Superb.
---
22: Jubilee Road, Tom Odell
Released: October 26, 2018; Columbia
Favourite song: the original album version of 'If You Wanna Love Somebody' is a perfect piano pop record with Odell's master songsmithing on full show.
Here because: Odell is fast becoming one of the most distinctive singer-songwriters in the industry, and his third album lyrically deals with the ideas of community, love and taking hold of your fate in an eloquent yet direct way, bundled into the framework of quotidian life. The album's strongest suit is undoubtedly the fact that the piano parts are intricately crafted to elevate the songs rather than just sit under them, and Odell's skills as a pianist more than help carry this record. He may not be among the ranks of Billy Joel or Elton quite yet – but the trajectory looks promising.
---
21: isola†ion, Kali Uchis
Released: April 6, 2018; Rinse/Virgin/Universal
Favourite song: 'Tyrant', the Jorja Smith collab, combining dream hop and reggaeton with a fairly sparse but detailed production and brilliant vocal harmonies.
Here because: somehow a dense and lengthy fifteen-track record is this consistently extraordinary, detailed and stylistically fascinating. Uchis is getting mainstream recognition with this album, and deservedly so. Most fascinating for me is the album's strange ability to both sound gleefully vintage and markedly fresh throughout.
---
20: The King, CHAINES
Released: March 15, 2018; Slip Imprint
Favourite songs: the glittering organs and glitchy flute-led trip hop (?) of 'Knockturning' make it a definite highlight.
Here because: CHAINES mixes a distinctly alt-pop/rock sensibility into the heavily experimental, sometimes brutal electronic soundscapes found in The King. This is an album that is sonically dense and at times challenging, but is more than worth the repeat listens to help uncover its many layers.
---
19: Expectations, Hayley Kiyoko
Released: March 30, 2018; Atlantic
Favourite songs: The collab with Kehlani, 'What I Need', is a strong inclusion on the album, but 'Molecules', a powerful and dreamy post-breakup anthem, takes the top spot.
Here because: Hayley Kiyoko is one of a group of queer female artists bringing the female LGBT+ experience to the forefront of music. Expectations (somewhat fittingly) was incredibly hyped pre-release, and, despite some critical disparity on the quality of songwriting on the album, it seems to have lived up to the hype, gained a huge fanbase, and provided one of the most socially important albums of the year.
---
18: Chris, Christine and the Queens
Released: September 21, 2018; Because
Favourite track: 'The walker'/'La marcheuse' – a poetic portrayal of the victim of domestic abuse – is gut-wrenching and utterly, bleakly beautiful.
Here because: Héloïse Letissier, often noted for her androgyny and queer stylings, analyses here unrelentingly the interplay between masculine and feminine tropes, through the stage personality Chris, a more masculine styling of Christine and the Queens. It acts as something of a manifesto for Letissier's personal philosophy, and with versions recorded in both French and English, it proves to be an in-depth and rewarding experience.
---
17: El Mal Querer, Rosalía
Released: 2 November, 2018; Sony Music
Favourite song: PIENSO EN TU MIRÁ, with its infectious hand-clap-led rhythm section, and gorgeous harmonic and rhythmic fluxus.
Here because: Rosalía's unique musical style, combining flamenco music with experimental pop, avant-garde, baroque pop and alternative R&B has created a whole new genre within music that she alone occupies. El Mal Querer ('Bad loving'), an ambitious and utterly transfixing concept album on the idea of an abusive relationship, is part-based on the anonymous 13th-Century Occitan novel Flamenca, and intrigues and fascinates for its entire runtime.
---
16: Heaven and Earth, Kamasi Washington
Released: June 22, 2018; Young Turks
Favourite song: 'The Psalmnist', off the second half of the album (Heaven), with an extraordinary groove and some fantastic solos.
Here because: rarely do high-concept contemporary jazz albums work so well. The framing of the tracks on this album into two halves (with a third secret disk, The Choice, hidden amongst the album's packaging and requiring to be cut open) exploring Washington's worldview by framing it in the Fall/Redemption arc of Christian mythology – it sounds like an esoteric and somewhat pretentious album concept. And yet – it gives an intensely tight structure to the album which means you don't ever feel like skipping a song.
---
15: Aviary, Julia Holter
Released: October 26, 2018; Domino
Favourite song; The utterly captivating 'Words I Heard', with its stunning interlocking violin lines and slowly-unfurling production that ends up enveloping you in its cavernous soundworld.
Here because: despite its length (clocking in at an hour and a half), Aviary takes its high-art baroque pop ideals and lets them organically grow through the entire album without any real disappointing moments. The concept of memory provides an interesting and elusive topic, around which dance Holter's intricate compositions and poetic musings.
---
14: Lush, Snail Mail
Released: June 8, 2018; Matador
Favourite song: the pensive and wistful 'Let's Find an Out'.
Here because: as debut albums go, this is pretty remarkable.  Some may complain about the seeming lack of diversity in the songs, but in my opinion, that's what makes the songs work so well as a set. It's not that they are dull and repetitive – rather, stylistically they fall close enough together that they are perfectly coherent. Nothing in the album is overstated, but Lindsey Jordan comfortably inhabits the sound world she creates for herself and delivers an amazing 10-song set of guitar-led soft-alt indie rock.
---
13: Swimming, Mac Miller
Released: 
Favourite song: the production on 'Wings' is intricate and precise, and packed with its lyrical depth, it proves to be an absolute stand-out song.
Here because: even aside from the tragedy of Mac Miller's passing this year, Swimming is phenomenal. Mac is here at his most pensive and melancholy, and instead of taking it out in the music through harsh beats and dense production, he does the opposite – calm, slowed-down, methodical working through it. The album is slow, it is it is drawn-out and it is fairly low-key – it is music that shows that the path to recovery is far from instantaneous, and requires time to mull it over.
---
12: Golden Hour, Kacey Musgraves
Released: March 30, 2018; MCA Nashville
Favourite song: 'Lonely Weekend', a song that should be a typical love ballad but instead somehow subverts the expectations into a sultry anthem to separation.
Here because: it takes a lot for me to listen to a country album. It takes even more for me to come back and listen to a country album multiple times. Kacey Musgraves' third album, Golden Hour is self-assuredly confident in its identity as a modern country record, occasionally bring in influences from other genres including art-pop and disco. And for an album centred around the concept of love, it isn't saccharine or idealistic – it's down-to-earth and realistic, allowing natural optimism instead of manufactured romanticism to shine through.
---
11: hej!, felicita
Released: August 3, 2018; PC Music.
Favourite song: the gloriously off-the-wall 'coughing up amber', full of bells, organs, synths, trap drums, and – bird calls?
Here because: any release from PC Music proves to be a thought-provoking and entertaining affair. felicita's album was described by him as "a set of musical paper cuttings; a nu-slavic folk tale; the soundtrack to a lonely dancer's journey across the Arizona desert", which is about all the elucidation you can expect from anyone on this label's roster. However, the album just works, drawing its sounds and inspirations from mainstream dance and pop and yet subverting them into very much its own morphed , jarring universe.
---
10: Tranquility Base Hotel and Casino, Arctic Monkeys
Released: May 11, 2018; Domino
Favourite song: 'Four out of Five', a song which helps create the fictional hotel/casino of the title, providing some healthy exposition for the universe of the album. What begins as a standard Arctic Monkeys track a la 'Do I Wanna Know?' morphs into something a little more Beatles-esque by the end.
Here because: in terms of story-telling, social commentary and structuring, this album is first-class. The music is similarly well-produced, with little by way of a lull in the album. If you are a fan of the Arctic Monkeys' stylistic quirks, then this album ranks up there with the best.
---
9: Hereditary: The Official Soundtrack, Colin Stetson
Released: June 8, 2018; Milan
Favourite song: the caterwauling electronics and swirling saxophones of 'Reborn', the track from this film.
Here because: Stetson's score taps into a primal, anxiety-inducing fear that not only matches the mood of Hereditary perfectly, but actually escalates the terror and drama of the film at key moments. However, it works brilliantly as an album in its own right as well, hence its placing so high up on the list.
---
8: Someone Out There, Rae Morris
Released: 2 February 2018; Atlantic
Favourite songs: this is really difficult to decide, but any out of 'Rose Garden', 'Atletico (The Only One)' or 'Dancing with Character' – for an experimental ode to anxiety, a catchy hook that makes me want to bop, and UTTER FEELS respectively.
Here because: a lot of experimental and contemporary classical records could be described as having pop influences – incorporating tropes of popular music into a more avant-garde framework. What Rae Morris does in Someone Out There is possibly more impressive – she seemlessly weaves an experimental sound through this undeniably 'pop' record and has it come out the other side a solid and fascinating album.
---
7: High as Hope, Florence + the Machine
Released: June 29, 2018; Virgin EMI/Republic
Favourite song: either of the two atmospheric and tear-rending symphonic wash-over gorgeous tracks that are 'Grace' or 'End of Love'.
Here because: Florence + the Machine in this record delve deeper, probe further, and do more with Florence's influences and backstory listeners know so well by now. Songs on this album are starkly autobiographical at times, and Welch does not pull punches lyrically either, describing multiple break-ups, struggles with addiction and anorexia, and even the suicide of her grandmother. But through all this, there are moments of light – reminiscences of the South London haunts of her youth, a reclaiming of her pride and, most importantly, deep down, forgiveness and acceptance.
---
6: Bark Your Head Off, Dog, Hop Along
Released: April 6, 2018; Saddle Creek
Favourite song: if you don't find the chorus to 'How Simple' completely infectious then you are missing a soul.
Here because: Hop Along have a unique, lo-fi-but-no-fi take on the indie/alt sound, and Bark Your Head Off, Dog exemplifies it with strong riffs, inventive lyricism and more than a couple of wry raise-the-eyebrows-with-a-knowing-smirk moments.
---
5: DJESSE (Vol. 1), Jacob Collier with the Metropole Orkest
Released: December 7, 2018; Decca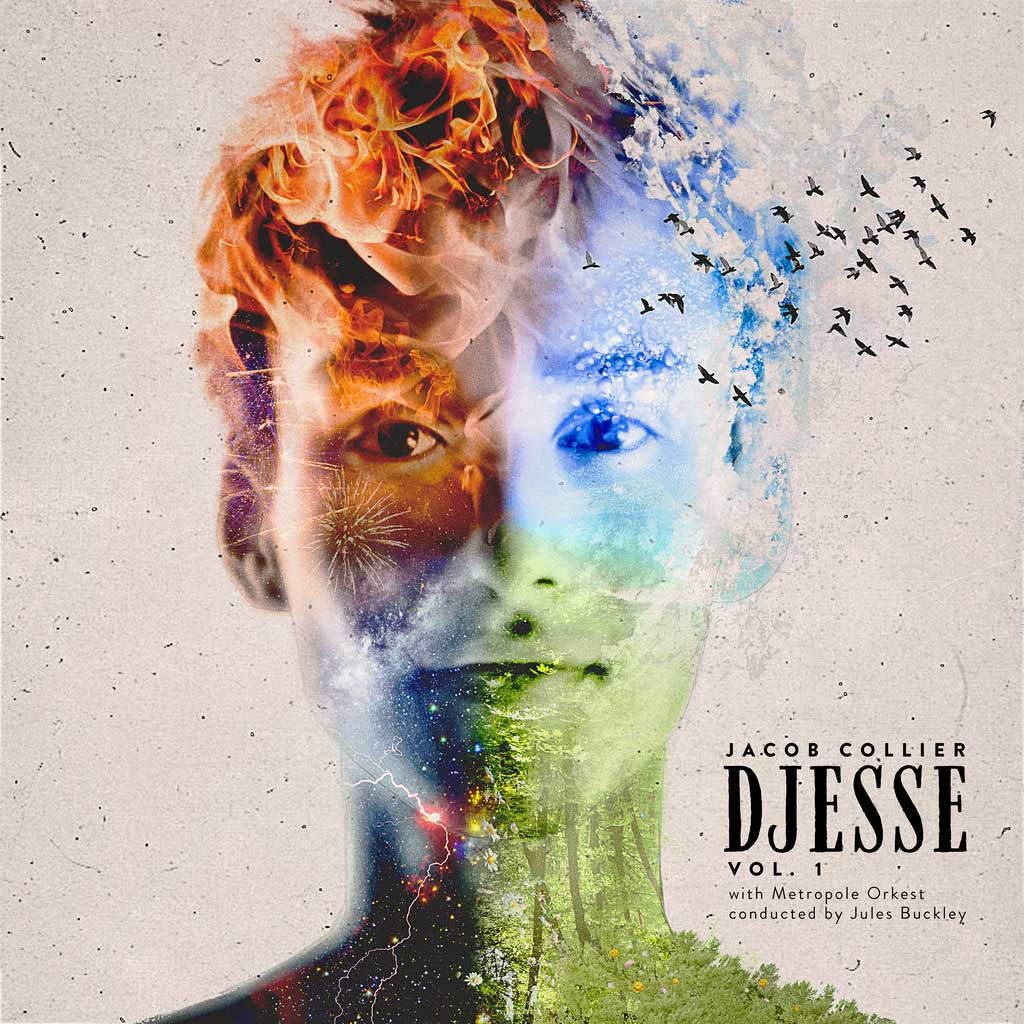 Favourite song: 'Ocean Wide, Canyon Deep' distills the brilliance of both Jacob Collier and Laura Mvula's distinctive soundworlds, finding the overlap and exploting it to the fullest effect.
Here because: 👏 I 👏 love 👏 Jacob 👏 Collier. DJESSE (Vol. 1) is a seemingly chaotic album replete with ideas that boggle the mind after 30 listens – but underneath it reveals a different face. Collier's distinctive knack for clever metric modulations, exquisite harmonies and detailed arrangement work remain from his first album and YouTube covers – but they are more moderated and carefully deployed, and make the first installment of the (hopefully long and fruitful) DJESSE story a joy to experience.
---
4: Dirty Computer, Janelle Monáe
Released: April 27, 2018; Wondaland Arts Society/Bad Boy/Atlantic
Favourite song: 'PYNK'. I won't go into what the song is about here – but it's amazing.
Here because: of all the 20-gayteen albums, the one that probably made the biggest splash was Janelle Monáe's Dirty Computer. Even when you put to the side the 46-minute-long film/extended MV/conceptual video art piece for the album, the album pushes buttons, stretches boundaries, breaks conventions, and ultimately is a major, defining, landmark OH MY LORD IT'S AMAZING moment for queer women of colour in music.
---
3: A Brief Inquiry Into Online Relationships, the 1975
Released: 30 November 2018; Dirty Hit/Polydor
Favourite songs: 'Sincerity is Scary' might be the most poignant and quietly thoughtful song on the album, but the brilliantly silly 'TOOTIMETOOTIMETOOTIME', with its Afro-beats and AutoTune, actually strikes the core of what this album's central theme REALLY is about.
Here because: people are calling ABIIOR the OK Computer for the millennial generation. While I don't think the comparison is entirely fair to either the 1975 or Radiohead, this album's potential to be a major cultural reference point for our time is blatant. Matty Healy and co have weaved together a thought-provoking and at times bitterly sardonic look at love and communication in the 21st century, with truly beautiful lyrics, infectious tunes and staggeringly brilliant production.
---
2: Age of, Oneohtrix Point Never
Released: June 1, 2018; Warp
Favourite song: it's so hart to pick on this album, but my choice (at least for the moment) is 'RayCats', a gloriously unsettling found sound/synth/world music cross-over/mashup that is so much better than my description of it.
Here because: Daniel Lopatin's eclectic postmodernist electronica has intrigued me for years, and Age of proves to be his most engaging and stimulating album yet. With samples ranging from Jocelyn Pook to MADtv and collaborators including Anohni and James Blake, the range just grows wider than ever before – but the album of Lopatins 'weird, little nightmare ballads' (his phrase, not mine) gels together and proves for a gripping three quarters of an hour.
---
1: Trench, twenty øne piløts
Released: October 5, 2018; Fueled By Ramen
Favourite song: I can't choose – but probably the song I would first recommend is 'Neon Gravestones', Tyler's manifesto against the dark side of the cult of celebrity, which might be the duo's most important song to date.
Here because: even as a dedicated fan of twenty øne piløts, this album utterly outshone my expectations. Much as with Florence in High as Hope, Tyler and Josh dived deeper into the neurotic hellscape hinted at in Blurryface and delivered an rich and multi-layered album, with a constructed universe, protagonist and story that serve together as the metaphor for the struggle to escape dark thoughts and keep fighting. The music retains the usual tøp flair for a quirky postmodern polystylism rich in reggae, alternative and synth-pop, but more deftly and to greater effect – and the addition of electric bass to the usual line-up of instruments adds both depth and grit to many of the tracks on the album. This is a damn-near perfect album, and one that has brought me to tears on multiple occasions. SO worth a listen.
---
WELL that felt like the longest single piece of writing I've ever done. Any thoughts, lemme know. 🙂
NEXT ONE: Probably going to be top singles unless someone ask me to do a different one first.